The Camden Grays formed in South Mills Township on or about the 4th of May, before North Carolina officially seceded from the Union on the 20th of that month. Capt. Joseph G. Hughes was commissioned on the 20th. The men enlisted on May 30, 1861, at the Camden Courthouse. By July 29, 1861, they were marching north to Norfolk.
The company tendered its services to the state and was ordered to Garysburg. They mustered into the 12th NC State Troops (2nd Regiment NC Volunteers) as Co. M. In October of 1861, they were transferred out of this regiment along with companies L, N, and O to become part of the 1st Battalion NC Infantry.  This battalion was later raised to regiment strength and designated as the 32nd NC State Troops. The company became 2nd Co. B in this regiment.
The Camden Grays fought at Gettysburg, Spotsylvania Courthouse, and Petersburg. They surrendered at Appomattox, Virginia, on April 9, 1865.
<![if !vml]>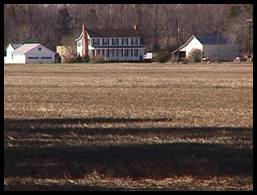 <![endif]>

<![if !supportMisalignedRows]>

<![endif]>
| | | | | |
| --- | --- | --- | --- | --- |
| Name | Age | Occupation | Rank | Enlisted |
| Brown, James W. | 34 | | Private | 30 May 1861 |
| Banks, William H. | 30 | | Private | 30 May 1861 |
| Bright, Elisha | 20 | | Private | 30 May 1862 |
| Bright, Henry  | 22 | | Private | 30 May 1862 |
| Bright, Henry C. | 23 | | Private | 30 May 1862 |
| Bright, Marcus | 34 | | Private | 30 May 1862 |
| Bright, Washington | 24 | | Private | 30 May 1862 |
| Bullock, Robert R. | 35 | Mechanic | Private | 30 May 1861 |
| Burnham, Benjamin B. | | | Private | 30 May 1861 |
| Cherry, Addison P. | 26 | | 2nd Lt. | 30 May 1861 |
| Cherry, Oliver | 20 | | 1st Sgt | 30 May 1861 |
| Creekmore, Josiah | 35 | | Private | 30 May 1861 |
| Creekmore, Martin | 28 | | Private | 30 May 1861 |
| Deal, Albert | 25 | | Private | 30 May 1861 |
| Duke, Wiley | 25 | | Private | 30 May 1861 |
| Dunn, Samuel J. | 35 | | Private | 30 May 1861 |
| Edney, Alexander | 19 | | Private | 30 May 1861 |
| Etheridge, James W. | 22 | | Corporal | 30 May 1861 |
| Ferebee, James W. | 23 | | Captain | 30 May 1861 |
| Gregory, Joseph Morgan | 24 | | Private | 30 May 1861 |
| Gregory, Morgan | | | Sergeant | |
| Gregory, William J. | 50 | Merchant | Private | 30 May 1861 |
| Henley, James A. | 22 | | Corporal | 30 May 1861 |
| Hodges, James E. | 27 | | Captain | 30 May 1861 |
| Hughes, Job C. | 17 | Farmer | Private | 30 May 1861 |
| Hughes, Joseph G. | 28 | | Captain | 30 May 1861 |
| Jacobs, John | 35 | | Musician | 30 May 1861 |
| Jones, William B. | 40 | | Corporal | 30 May 1861 |
| Linton, Jesse | 50 | Wheelwright | Private | 30 May 1861 |
| McCoy, David | 21 | | Corporal | 30 May 1861 |
| McCoy, James S. | 34 | | Private | 30 May 1861 |
| McCoy, Malachi | 17 | | Private | 30 May 1861 |
| McCoy, Timothy | 17 | | Private | 30 May 1861 |
| McDaniel, Isaac | 26 | | Private | 30 May 1861 |
| McPherson, William | 22 | | Private | 30 May 1861 |
| Meiggs, Joseph | 24 | | Private | 30 May 1861 |
| Meiggs, William | 22 | | Private | 30 May 1861 |
| Miller, William P. | 27 | | 1st Sgt | 30 May 1863 |
| Morgan, John S. | 28 | | 1st Lt. | 30 May 1863 |
| Nash, Enoch | 20 | | Sgt | 30 May 1861 |
| Nixon, George W. | 30 | | 2nd Lt. | 30 May 1861 |
| Old, Walter R. | 16 | Student | Private | 30 May 1861 |
| Overton, James B. | 44 | | Private | 30 May 1861 |
| Overton, William R. | 31 | | 1st Lt. | 30 May 1861 |
| Parker, Richard H. | 25 | | 3rd Lt. | 30 May 1861 |
| Perkins, Richard C. | 40 | | Private | 30 May 1861 |
| Powers, John | 22 | | Private | 30 May 1861 |
| Powers, William | 40 | Farmer | Private | 30 May 1861 |
| Powers, Wilson | 19 | | Private | 30 May 1861 |
| Pritchard, Benjamin C. | 20 | | Corporal | 30 May 1861 |
| Pritchard, David T. | 20 | | Sergeant | 30 May 1861 |
| Radford, James E. | 20 | | Sergeant | 30 May 1861 |
| Richardson, E. Gilbert | 25 | | Private | 30 May 1861 |
| Riggs, Alpheus B. | 22 | | Private | 30 May 1861 |
| Riggs, Richard | 22 | | Private | 30 May 1861 |
| Riggs, William | 25 | | Private | 30 May 1861 |
| Roberts, Richard | 22 | | Private | 30 May 1861 |
| Roberts, Thomas | 25 | | Private | 30 May 1861 |
| Rudder, Joseph C. | 27 | | Musician | 30 May 1861 |
| Savills, William F. | 34 | | 1st Lt. | 30 May 1861 |
| Sawyer, Archibald | 35 | Farmer | Private | 30 May 1861 |
| Sawyer, Elijah | 38 | Farmer | Private | 30 May 1861 |
| Sawyer, James H. | 20 | | 1st Lt. | 30 May 1861 |
| Sawyer, John F. | 20 | | Private | 30 May 1861 |
| Sawyer, Samuel | | Farmer | Private | 30 May 1861 |
| Spence, Joseph | 22 | | Private | 30 May 1861 |
| Spence, Miles | 36 | | Private | 30 May 1861 |
| Spruill, Burton | 28 | | Private | 30 May 1861 |
| Stephens, Joseph | 22 | | Private | 30 May 1861 |
| Taylor, William | 35 | | Private | 30 May 1861 |
| Tisdale, Barney | 28 | | Private | 30 May 1861 |
| Tisdale, William | 50 | | Private | 30 May 1861 |
| Turner, William | 31 | | Private | 30 May 1861 |
| Tuttle, John F. | 19 | Farmer | Private | 30 May 1861 |
| White, William | 20 | | Sergeant | 30 May 1861 |
| Whitehurst, John | 35 | | Private | 30 May 1861 |
| Whitehurst, William R. | 20 | | Private | 30 May 1861 |
| Williams, Zebedee | 20 | | Private | 30 May 1861 |
<![if !supportMisalignedRows]>

<![endif]>